"We're Just Here for the Beer" Lizzards Love Beer!!
Try These Great Miller Links Today!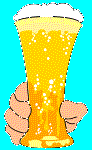 The MGD Tap Room -- This is the place to start!
Miller Lite Home Page -- Another great page!
St Pauli Girl -- Check out this babe!
Leinenkugel -- Try the Honey Weiss, it's great! Give me a Leine!
The Real Beer Page -- Everything you ever wanted to know about Beer!